Low Testosterone occurs when there's a hormone reduction in the body and although generally related to aging, it can occur in younger men in their 30's or 40's as well.  
Accurately diagnosing Low T must always include a thorough examination of symptoms and complete blood work-up from a reputable lab. If you think you might be suffering from Low T but aren't quite sure, we recommend taking the Aging Male Symptoms (AMS) Questionnaire. 
Take a look at this illustration of what Michelangelo's statue of David may have looked like if he was experiencing Low T. If any of these symptoms sound all too familiar, contact us to schedule a free phone consultation or an appointment.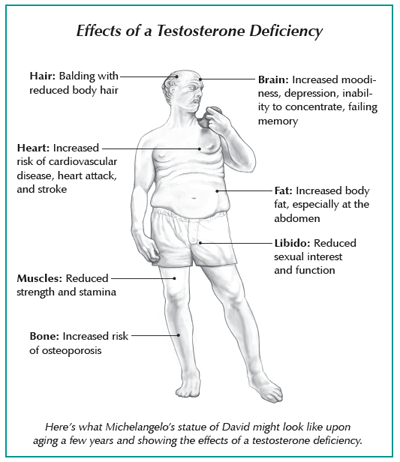 Top 10 Symptoms of Low Testosterone
Low sex drive
Poor erections
Reduction in nocturnal erections 
Low energy levels
Mood changes or depression
Difficulty gaining muscle mass and strength
Insomnia or other sleep difficulties
A loss of body hair
A decrease in bone density resulting in osteoporosis, which can lead to the occurrence of bone fractures and breaks
An increase in fat around internal organs
Low Testosterone Treatment 
Low Testosterone is primarily treated with Testosterone Replacement Therapy (TRT), which in recent studies has shown to decrease the incidence of cardiovascular outcomes, such as heart attack or stroke, by 30%. Contrary to what you may have seen in the media, the preponderance of medical evidence clearly shows that treating Low T with TRT does NOT increase your risk of prostate cancer or cardiovascular disease. In fact, studies correlate TRT with improved cardiovascular and overall health5.
Click here to learn more about treatment options. 
Call us at 646-380-2600 or complete the form below for more information or to schedule a free phone consultation or an appointment.